F-1 Hybrid
The largest pepper on the market. Fruits are dep green with thick flesh. It is not unusual for fruits to reach 8-10" long and 4" across. Great for salads or stuffing.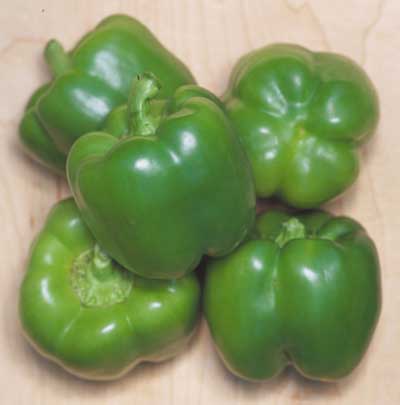 Similar to Early Califonia Wonder, slightly larger and more uniform fruit, 4.75" x 4". Fruits are mostly 4-lobed, from green to red. Tomato Mosaic Resistance.
F-1 Hybrid
Dark green skin ripens to a dark brown. Sweet, non-pungent fruits are 4" x 3.5" across. An interesting novelty to add color to your salads and cooking. Disease resistant.
F-1 Hybrid
(All America Winner - 2001)
Bred in Italy, an early, heavy yielding variety that mature to a bright red. About 3" wide at the top, 3 lobed. A thin skinned variety that can be used in salads, roasted on the grill, or pan fried with tomatoes and egg plant. A heavy yielding hybrid of the Melrose type with all America honors. Disease resistant.
Same as California Wonder except peppers are bright gold, changing to orange-red when mature.
F-1 Hybrid
Blocky 5" x 4" fruits. Very thick walls, mostly 4 lobed, dark green to orange fruits. Heavy yielder and widely adapted. Tobacco mosaic resistant.
*Information taken from Germania Seed Company*