gleditsia / honeylocust
A fast-growing medium-to-large sized tree adapted to a wide variety of soils, including alkaline soils. Very susceptible to winter die-back, but hardier cultivars have become available. The largest tree in North Dakota is 60 feet tall with a canopy spread of 40 feet.
**Info taken from NDSU Tree Selector**
Northern Acclaim® Honeylocust
Gleditsia triacanthos var. inermis 'Harve'
This cultivar was developed at NDSU, where it outperformed other honeylocust cultivars in winter hardiness. Thornless and seedless, it has a rather upright form similar to Skyline®, and gradually widens with age. This sturdy, vigorous tree is quite drought resistant as well.
Height: 35 - 45 ft
Spread: 30 - 35 ft
Fall Color: Gold
USDA Zone: 3 - 6
**Info taken from Bailey Nurseries, Inc.**
Gleditsia triacanthos var. inermis 'Skycole'
A stately and unusual variety with distinctive pyramidal form, this tree develops a strong, sturdy trunk and shapely crown. Thornless, and essentially fruitless, it is a valuable tree for light, filtered shade.
Height: 45 - 50 ft
Spread: 30 - 35 ft
Fall Color: Yellow
USDA Zone: 4 - 7
**Info taken from Bailey Nurseries, Inc.**
CARE: POSITIVES & DRAWBACKS
The taproot that this tree develops makes it a fantastic choice for dry prairie sites. Once established it tolerates our North Dakota climate well. The common honeylocust is known to be quite deer resistant. In addition to that the honeylocust is also adaptable to a wide variety of soil conditions including salty sites making it a solid choice for almost any planting area.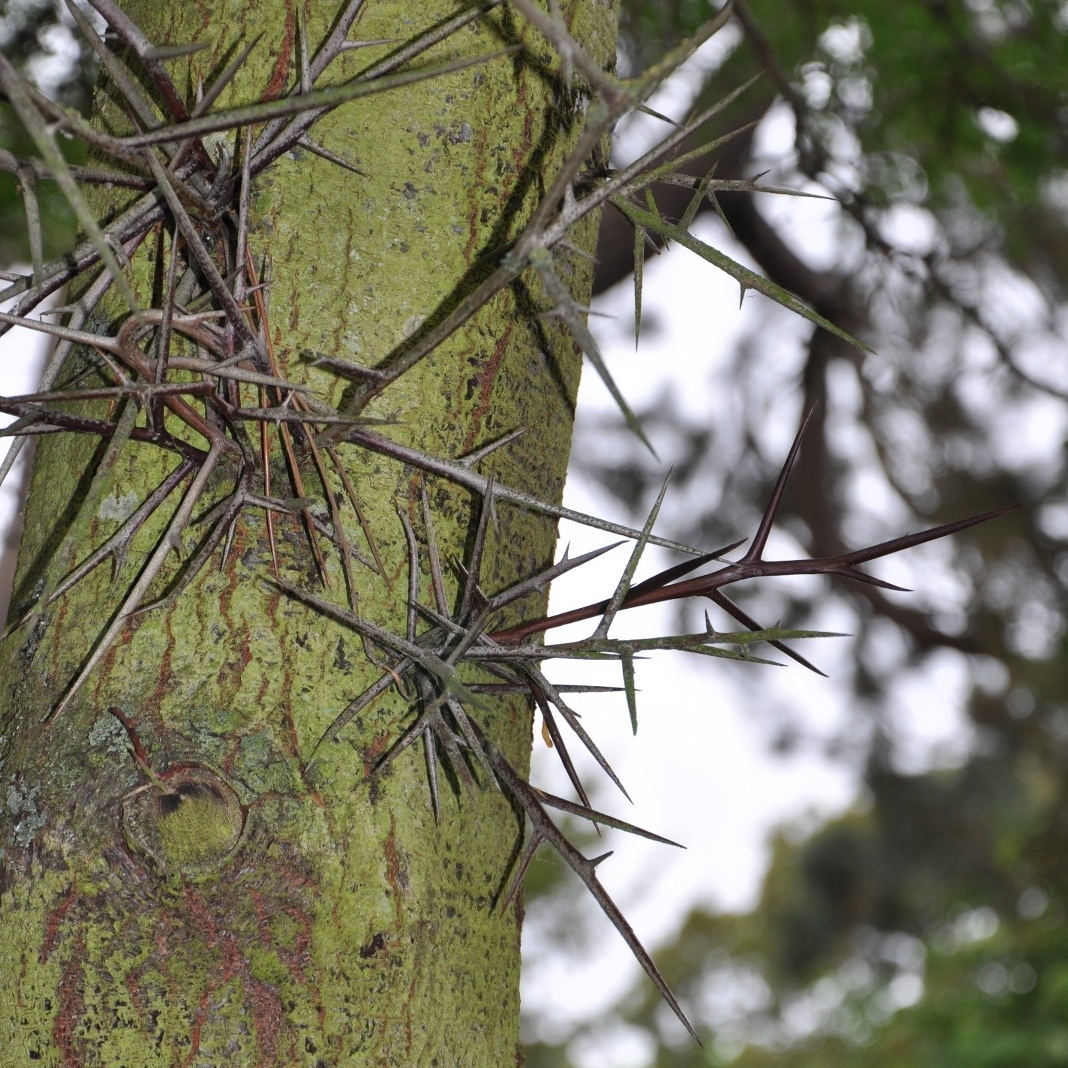 Perhaps the largest drawbacks of the honeylocust had been almost completely bred out of the modern cultivars. The honeylocust used to be covered with messy seed pods and sharp thorns that aided in making it a very deer resistant plant but those characteristics have all but been bred out of most modern cultivars. In fact, the term seen in most of their Latin names "inermis" is actually Latin for "unarmed". Perhaps the biggest drawback to these trees in our Northern climate is that they are prone to winter die-back, especially when young.
PRUNING:
The optimal pruning time for Honeylocust trees is late fall after the leaves have fallen

For more on identifying old wood and new wood see our page on care of woody plants.