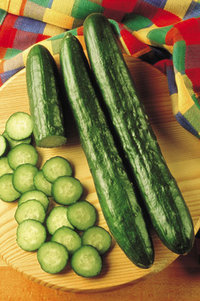 F-1 Hybrid
Tasty green. A new variety for those who shun cucumbers as being bitter and indigestible. They should be picked and eaten like celery when they are young; no peeling since the skin is soft and tender. Stake for best results. 9" long and 1-1.5" in diameter.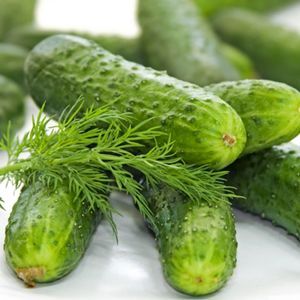 Diminutive oval melons look like miniature watermelons and are surprisingly crunchy, with a refreshing tart taste that is great for pickles, stir fries, and fresh salads. Very attractive ornamental vines are ideal for growing on a trellis. Also known as Mexican Sour Gherkins are virtually carefree, have good disease resistance and are extremely easy to grow. Very heavy yields.
This variety was developed for the home gardener and home pickling use. A heavy producer of solid, crisp pickles. Can be harvested when 2" long or fill maturity at 5". A very high yielding variety. Over an eight week period, ten plants yielded about 450 fruits or an average of 45+ fruits a plant.
burpee hybrid ii (Dasher ii)
F-1 Hybrid
An excellent improved variety for the home garden, market grower, shipper and greenhouse culture. Fruits are dark green with white spines, 8" or more long and 2.25" across. A high yielding, disease resistant variety.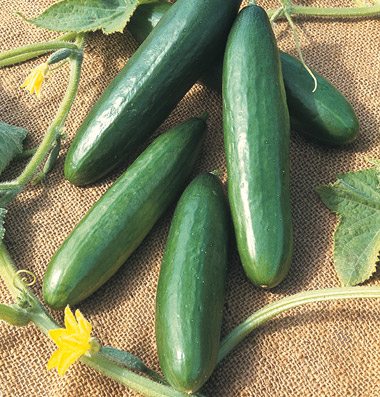 (All America Winner - 2002). Distinctly tender, crisp, sweet, bitter-free and seedless fruit. Foliage is nonbitter, hence it is not as attractive to cucumber beetles as some varieties. This variety can set fruit without pollination. Plants naturally produce only female flowers which increase their overall yield of large, sweet and genetically non-bitter 6-8" fruits. Especially flavorful when harvested small. Disease resistant.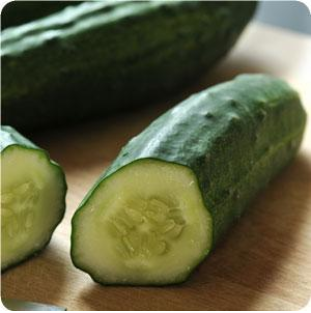 Controlled, yet vigorous, variety produces short, branching vines that make it a great fit into gardens or planters. Can be sold in large containers with a small trellis, and works as well in pack/pot programs. The dark green skinned, 8" long by 1-1.5" wide fruit has good flavor, crunchy texture and non-bitter peel. Free flowering, monoecious plants are high yielding with continuous harvests. Short crop times for multiple Spring turns.
(All America Winner - 1935)
Early, dark green skinned, 8" fruits. Disease resistant.
*Information taken from Germania Seed Company*